Product Information
Different Hardhat ID Types; WSID-01 and WSID-02
We supply two different types of Hardhat ID, denoted by the products codes WSID-01 & WSID-02.

WSID-01
This product measures 70mm x 15mm
3M Scotchlite reflective material with security seal
Contains 1 x 2 panel waterproof ID card

WSID-02
This product measures 82mm x 20mm
3M Scotchlite reflective material with security seal & data window
Contains 1 x 4 panel waterproof ID card
Benefits of the Hardhat ID (WSID-02)
The Hardhat ID (WSID-02): A hardhat mounted ID system that enables access to a worker's vital medical allergy information & emergency contacts immediately in the event of an accident.
Mounted to the exterior of the hardhat, ambulance & first aid officers can access the worker's information immediately without removing the hardhat - reducing the potential for neck and spinal trauma.
Featuring silver 3M Scotchlite® reflective material the system components provide a further advantage to the wearer by making them more visible to others in low light conditions.
Features of the Hardhat ID (WSID-02)
Low cost solution to enforce on-site safety procedures.
100% waterproof for extreme conditions.
Secure ID card protects information.
Highly Visible - Utilises 3M Scotchlite yellow reflective material.
Attaches to Hard Hats, Helmets & Clothes.
You'll never forget your ID - always attached to your helmet.
Safe access to your ID - no need to remove helmet.
ID card fits inside inner pocket - out of sight in normal use.
Easily updated - spare ID card included.
Utilises "Helmet Safe" adhesive to fix to helmet.
The Waterproof ID card stores the following information: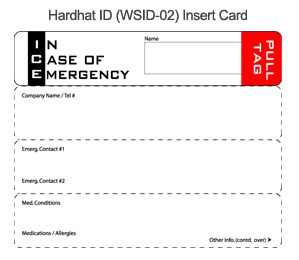 How the Hardhat ID System Works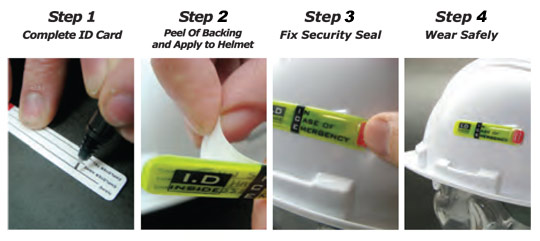 Write the worker's information on the ID Card
Peel off backing and apply to helmet (usually left side)
Fix security seal
Wear it!
Areas of Use
Sub-Contractors who go to work sites where nobody really knows anything about them.
Any employee who has allergies to certain medications.
A worker is on medication for depression but hasn't told anyone.
An employee wants both his wife and ex-wide notified if he his injured or ill, so his ex-wife can tell the kids.
A guy named "Robbo" - is anyone sure of his real name?
An employee is on medication for a heart condition but didn't tell his employer in-case he didn't get the job.
Ordering
Option 1
Use the Buy Now Box to order online immediately.
Option 2
Call us on 02 4351 9566 for a quote and/or to order.