"Unique" Charity for Rare Chromosome Disorders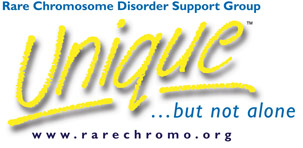 Rare chromosome disorders affect at least 1 in 200 live-born babies. Many are born sick and disabled, often unable to walk or talk. Such special children have a very demanding lifelong emotional and physical impact on their families. Rare chromosome disorders can happen to anyone and yet support, information and advice for families are patchy and difficult to access. Professionals often simply do not have knowledge of rare chromosome disorders to be able to help.
Unique picks up the pieces and makes a huge difference to these children and their families who often have nowhere else to turn to. Our Listening Ear helpline staff are on hand for parents of those affected to answer their questions and de-mystify complex medical terms. We also support the professionals working with them, answering their questions to help them plan the care of their patients. We have published more than 120 guides to specific chromosome disorders, covering issues such as health, behaviour and education, a truly unique resource and our family matching service brings together those living with similar disorders for mutual understanding and support.