Product Information
The Sport ID - Helmet ID: A helmet mounted ID system that enables access to a rider's vital medical allergy information & emergency contacts immediately in the event of an accident.
Mounted to the exterior of the helmet, ambulance officers and first responders can access the rider's or climber's information immediately without removing the helmet - reducing the potential for neck and spinal trauma.
Featuring 3M Scotchlite® reflective material the system components make the rider or climber more visible to others in low light conditions. Perfect for Canyoning, Climbing, Abseiling, Mountain Bike Riding, Road Cycling, BMX Riding and other sports.
Features of the Sport ID - Helmet ID
Highly Visible - features 3M Scotchlite® reflective material
Easily Updateable - easily update your details if they change
100% waterproof - including ID insert cards
Durable & Hardwearing - resists everyday knocks and abuse
Lightweight & Aerodynamic - shapes to the curvature of the helmet
Safe access to your ID - no need to remove helmet
Never forget your ID again - securely attached to your helmet
Utilizes "Helmet Safe" adhesive to fix to helmet
Package Includes: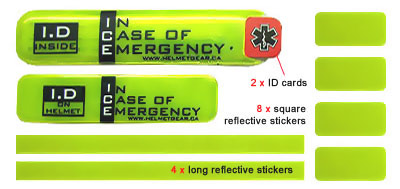 The Waterproof ID card stores the following information: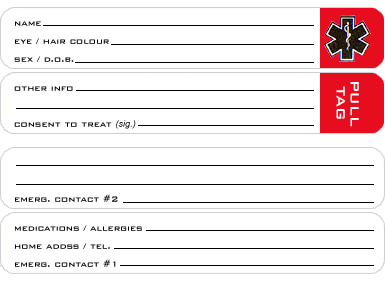 Easy to Use - 3 simple steps
Sport ID - Helmet ID Fitting Guide (video)
Ordering
Option 1
Use the Buy Now Box to order online immediately.
Option 2
Call us on 02 4351 9566 for a quote and/or to order.