Product Information
Features
One size fits all! (100cm x 100cm, hood 36cm x 40cm)
Custom printing available by Silk Screen Printing (Contact Us for Printing)
Made with 0.30mm LDPE (low Density Polyethylene)
Offered in several colors.
Perfect for any short-term event, including Night Clubs, Functions, Parties etc.
Custom Printed Ponchos
We can imprint your logo or message on the back to a size of 33cm x 33cm. Thats huge! The standard colour is yellow, but they are also available in other colors and other styles. Contact Us for Printing Information and Pricing
Promotional Ponchos
Emergency raincoats are ideal as a promotional item at your festival or event, & provide you with a way of making additional revenue, whilst at the same time offering your patrons a souvenir with your name on it.
A simple promotional item that your patrons can keep in the car, handbag or just plain handy. When it rains; out it comes, keeping your name in the public domain.
Wearing a Poncho - Example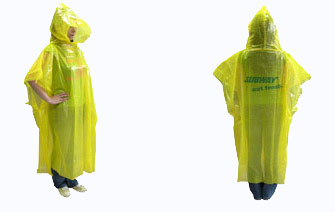 * Actual colors may vary from the website.