Everyone loves a deal !
Well here's a bargain for paper wristbands or rather Tyvek wristbands which is the correct term.
While we encourage you to customise your wristbands to improve your security, sometimes there is a way to use the imprint on the patterned Tyvek wristbands to meet your requirements.
Wizid has the largest range of Tyvek wristbands in Australia & whether you live in Sydney, Melbourne, Adelaide, Perth or Brisbane we can get our Tyvek wristbands to you overnight.
If your budget doesn't extend to custom imprinting, different wristband colour patterns may provide an answer for you.
We stock several Tyvek wristband patterns which are the same design but are available in a range of different colours.
Stripe, Checkboard, Camouflage are available in a number of colours and as such could be used to identify different groups at your party or event.
The pattern on the Tyvek wristband helps add to the security as there are fewer patterned wristbands in the marketplace unlike plain Tyvek wristbands.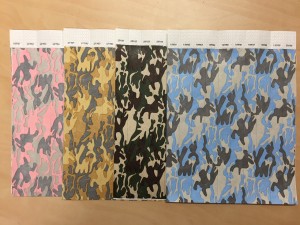 Some of our pattern wristbands including our Smiley Face & Half Circle wristbands, have individual characters and are offered in up to 6 different colours, depending on the pattern.
Think of these characters as numbers, rides, drinks or some other form of entitlement and simply mark each subsequent character off as the entitlement is used.
A school may use these wristbands at a school fete, where the Tyvek wristbands may be purchased for say $ 10.00 and a child's wristband has a mark or hole punched through each character every time a ride is taken.
These make ideal wristbands for parties, in a bar or hotel, where not only different groups can be identified easily, if there is a drink limit characters on the Tyvek wristbands can be checked off and they may also prove useful in that instant to assist with alcohol control.
Paper wristbands unlike Tyvek wristbands would not work in a wet environment as paper absorbs moisture while Tyvek resists water.
So if you're looking for a cheap alternative in a paper wristband our patterned Tyvek wristbands may be the answer and provide a simple solution.
Cheap wristbands ! Well if you can use a patterned Tyvek wristband rather than a custom print wristband you have saved on the cost of artwork and the custom imprint, so that's where your wristbands will always be cheaper.
We stock over 140 different types of Tyvek wristbands and if you prefer to come up with your own solution in using different colours & patterns good luck to you.
Keep in mind if you intend to write on a Tyvek band, please use a waterproof pen for the best result.
Additionally, ask yourself will my text show up clearly enough against the patterned background so you will need to select carefully to make sure it does.
Please discuss your needs with our customer service department and they will be able to guide you to the right solution for your situation.
Wizid will always suggest that custom imprinted wristbands are the best way to go as a custom imprint will make your Tyvek wristband unique for your party or event.
Good luck & I hope these tips help in ensuring you have a successful event.