Wristbands Australia is our business.
Wizid was established in 1997 with wristbands as our focus and wristbands remain a large part of our identification product catalogue.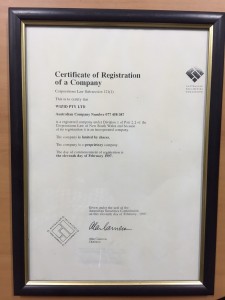 In our almost 20 years, customer service has been our strongest element and to our knowledge we are the only wristband focused Google trusted store in Australia.
Whether you require wristbands in Sydney, wristbands in Perth, wristbands in Melbourne or any part of Australia, Wizid will get them to you ASAP.
Our location in the Tuggerah Business Park on the NSW Central Coast happens to be a transport hub so we can get your wristbands delivered throughout Australia by the fastest possible means.
Within 800 meters of our front door is an Australia Post Business Hub, Toll Priority, Startrack Express all located within the Park. No more than a couple of km's away are Toll Ipec & TNT, so wristbands Australia wide is pretty straightforward.
No other wristband company in Australia is surrounded by transport companies able to get you your wristbands overnight. Need Wristbands express to Adelaide or Sydney, no problem.
We do have a further option for express wristband delivery and that is DHL who are literally a few meters away. Wizid is Unit 5 while DHL is Unit 6 in our part of the complex.
We use Toll Priority for the majority of our deliveries ( satchels ) as they deliver next day to all capital cities & most regional centres.
Toll satchels can hold several thousand wristbands, allowing us get your wristbands to almost any part of Australia ASAP.
Wizid has more than 20,000 customers on our books & we have supplied wristbands Australia wide from literally Norfolk Island to Christmas Island & from Cape York to Hobart.
When we say Wristbands Australia we mean wristbands Australia, as a Google trusted company our reputation is important to us and we can be relied on to provide you with the best service we can.
If you're happy, we're happy. Tyvek wristbands, plastic wristbands, barcoded wristbands, woven wristbands, silicon wristbands, plain wristbands, patterned wristbands, custom printed wristbands you name it & we can do it.
Our first contact with wristbands came in 1976 exactly 40 years ago when our owner was supplying hospital wristbands for the NSW government contract and subsequently supplied the first wristbands into the leisure and entertainment sector in Australia.
The wristband business has changed dramatically during that time but our owners core values have not & he remains committed to a good product at good value delivered with good customer service.
Wristbands Australia has come a long way since those early days with Wizid being an integral part of delivering wristbands throughout Australia.
Wizid looks forward to continue to supply wristbands to happy customers throughout Australia for the next 40 years.
We hope you will join us on that journey and we remain committed to serving you as best as we are able.